Hi,
Saw this picture in a book and thought it was a really nice idea, and in terms of keeping white goats clean it must be a labour saver. Would probably have to be more robust for hefty adult goats though. Anyone have anything like this for their goats?
I once read about goats that slept in large plastic dogs beds, there was even a photo...I post it up soon.
Daryl



Posts

: 69


Join date

: 2010-01-11


Age

: 33


Location

: Scotsburn, Nr Tain, Scotland



I don't know that it would really help keep them clean, I think white goats like finding dirt! However, they do like sleeping/ jumping on a big box. A wooden "tattie box" on its side is good. At our old place we had an isolation pen, which we didn't use that often, but it had a foot wide shelf along it at about 3ft high. All the goats we ever had in there loved jumping on and sleeping on the shelf.


Beth



Posts

: 64


Join date

: 2008-10-09



I think your right about white goats finding dirt. In the middle of my exercise paddock is the septic tank access cover. To protect it and stop the goats falling in we built a very sturdy platform over it with decking. Its only about 1ft off the ground but the goats love it, they spend hours leaping on and off it, jostling with each other to be on the platform and leaping in the air to butt heads mid leap. They do however poo all over it and and then in the summer lay in their own poo. Oh well as long as they are happy!
Clover posing on the Platform: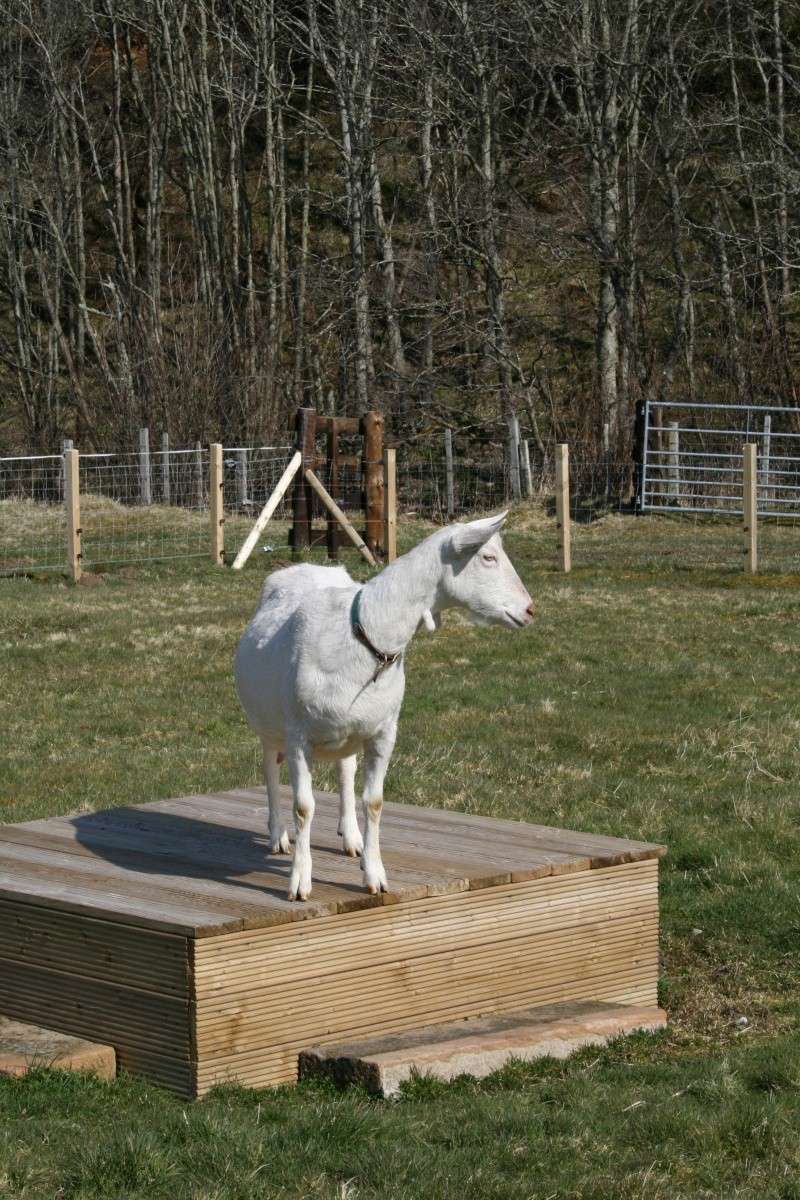 Daryl



Posts

: 69


Join date

: 2010-01-11


Age

: 33


Location

: Scotsburn, Nr Tain, Scotland





Similar topics
---
Permissions in this forum:
You
cannot
reply to topics in this forum